$

425.00
Hyaluron Pen Starter Kit | Training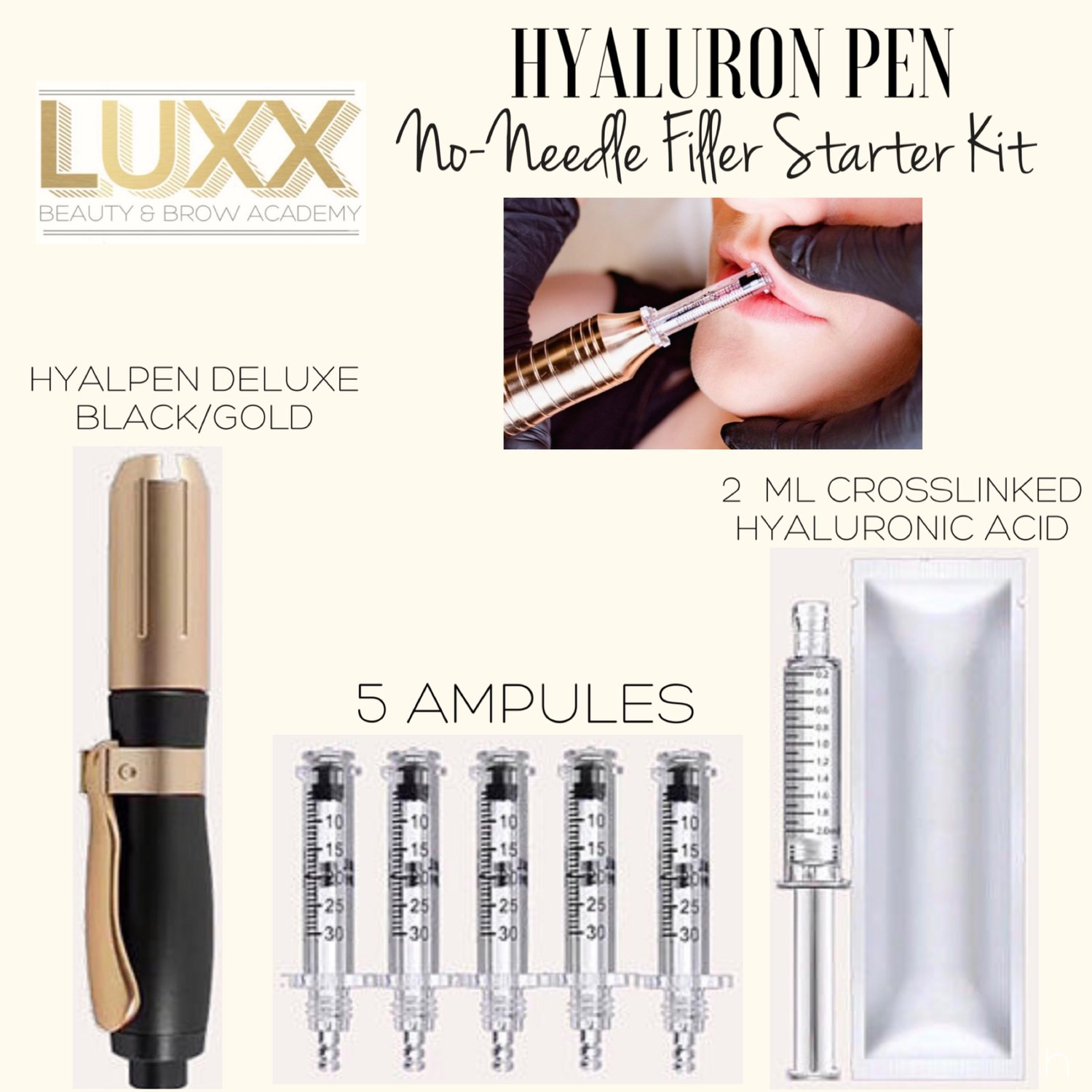 The Starter Kit includes all you need to start your No-Needle Filler Business or give yourself LUXX LIPS!
Hyapen Perfect Sarter Kit includes:
Gold Deluxe Hyalapen
2 ml Crosslinked Hyaluronic Acid Filler
5 Sterile, individually packages ampules
**Due to supplier overload and holiday rush, filler will not be shipped until mid April!**
The Hyaluron Pen has taken the beauty industry by storm, with its no needle lip filler concept. If you have clients who shy away from needles, this could be the answer. Clients who have a needle phobia, doesn't mean they don't want fuller lips, and now you can give them the lips they've always wanted, with the no needle Hyaluronic Air treatment.
How does it work?
The treatment uses a special pen to deliver hyaluronic acid into the lips. The pen was actually first designed to eliminate the use of needles for those who suffer from diabetes, and has since been used by the beauty industry to allow for no needle fillers.
The active ingredient used, hyaluronic acid, rejuvenates and lifts the lip area, as well as stimulating collagen production. The Hyaluronic pen captures air and pressure to allow Liquid Filler into the treatment area. Unlike a syringe injection, probability of infection is remote.
Who can perform the Air Filler Treatment?
You don't need any medical background to offer the Hyaluronic Pen, making it the perfect alternative offering for beauty therapists that are not qualified in administering lip filler treatments.
Insurance companies are categorising this as 'No Needle Mesotherapy' – it is also recognised as a 'hyaluron pen'. Information on our partnered insurance company is given out to our students on the day of training.
There are no pre-requiites to attending our course, all that is required to obtain insurance is the LUXX certificate. Our training is through, and we will not have you leaving our classrooms feeling less than confident.
How long does this treatment last?
Your clients will be thrilled with how long the Hyaluronic Lip Treatment can last for, and the answer is, it will last just as long as traditional filler! The average duration being 2-3months, however your clients lifestyle will have a factor in the longevity of this natural product and can last up to 7.
Recovery time…
No recovery time is required, and your clients can return to work, and carry out normal activities immediately, unlike traditional fillers administered by traditional techniques.
What Are The Risks And Potential Complications?
Treatments are said to feel like a very slight 'pins and needles' sensation, but are generally described as not uncomfortable and painless.
There are virtually no risks or side effects for healthy candidates, however, like in any beauty service, a full consultation must be carried out prior to treatment.
There is always the possibility of allergic reaction to one or more of the ingredients within the topically applied serums used – this would become apparent immediately on application, by the appearance of redness. In rare situations, a patch test may be required (this is throughly covered on the course). Patch tests are not compulsory, simply because the main ingredient used is Hyaluronic Acid, which our body naturally produces.
Treatment Advantages:
Here are a few reasons why the Hyaluronic Air Pen adds remarkable value to your beauty salon:
The Hyaluronic fillers are 100% natural.
No needles
No pain
100% natural
100% safe
Instant results
No downtime – no hiding away whilst you await your beauty bruises to disappear!
Much lower cost for both salon and client.
Nationwide Training Available
The one day Lipnv Hyaluronic Air Course covers:
Introduction to the Hyaluronic Air
Health & Safety
Salon Hygiene
What is Hyaluronic Acid?
Live demonstration
Practical (a model is required)
The one day Lip Filler course is now available to book, and is available in the following locations via The LUXX Beauty Academy network:
Louisville
Jacksonville
Nashville
The Lip Filler Course is $1200.00 plus tax.
This includes a full kit for your training day, this includes:
Hyaluronic Air Pen – EU Certified, and comes with a manufacturers warranty.
Hyaluronic Gel (non-cross linked & Crossed Linked)
Disposable Ampules
*All disposables/consumables will be supplied on the day.
How do I book?
If you would like to go ahead and book on a class in your area, a deposit of $400.00 plus tax will be required to secure a place. Classes are one on one.
If you would like further information about the training available in your area, and dates, please contact our dedicated Education team on luxxbbb@gmail.com